From Self-Service to Managed Service
As users start to multiply, or coding becomes irreplaceable, moving to Managed Services is a wise step. These are the support levels available at Jade.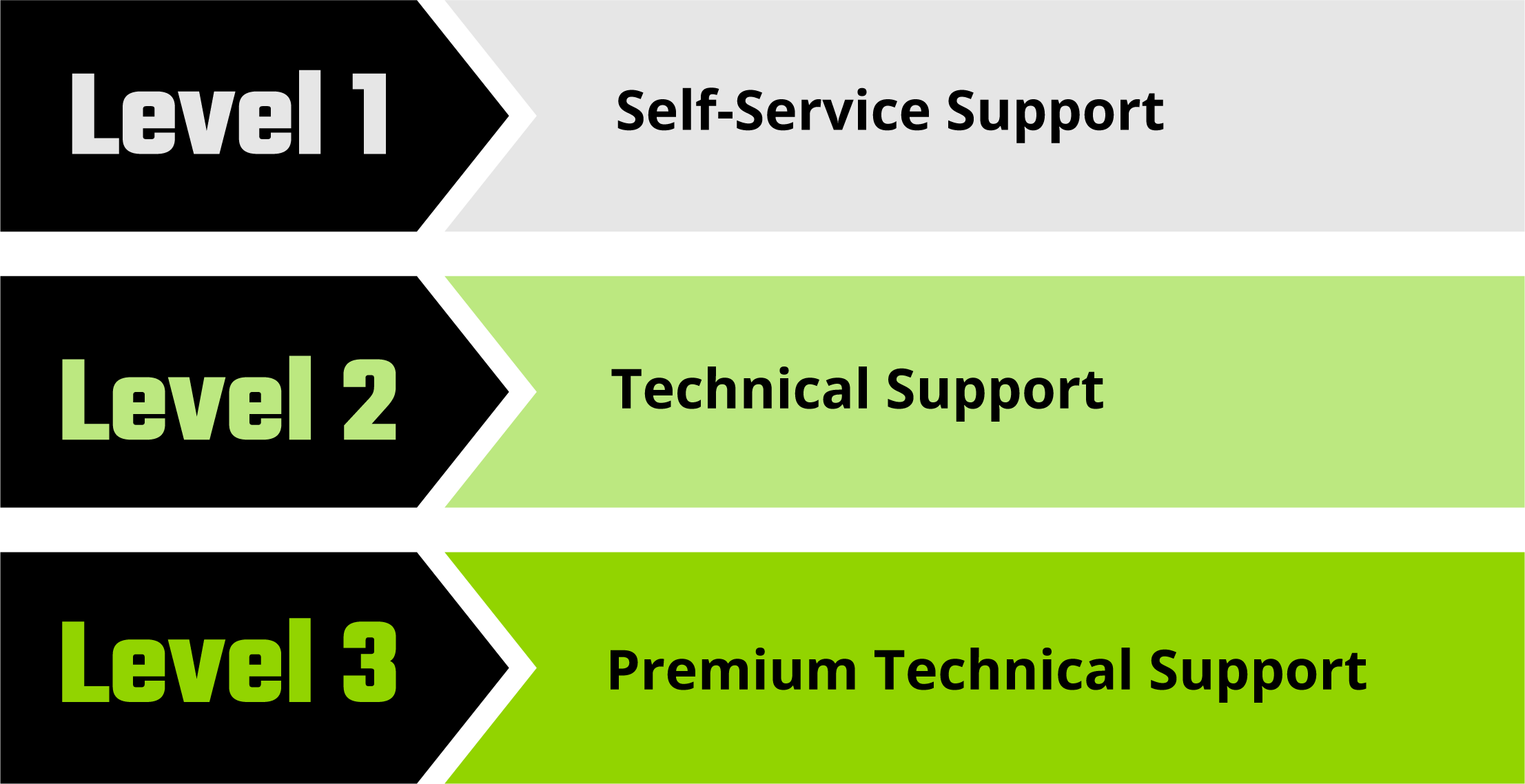 Level 1: Self-Service Support: At no cost, this is full access to all of the resources needed to self-manage, such as user forums, whitepapers, technical releases, hotfixes, and documentation.
Level 2: (Managed) Technical Support: Access to the Jade Customer Support Center (JCSC) and Parsys service tracker with a set number of service requests per year. Cost per licenced person.
Level 3: (Managed) Premium Technical Support: Unlimited access to Jade Platform Customer Support Centre (JCSC) with personal Parsys access and escalation contact.
Visit our licensing page to learn more about what these support options cover in detail, indicative costs, and to order a support contract.
Releases & Critical Hotfixes
With a bi-annual release and service packs available in between, you can innovate with the latest and greatest.
If you're looking to upgrade to the latest release, you can self-install or contact jadesupport@jadeworld.com for advice.
Solutions to issues that could impact Jade outside of releases and service packs are known as 'Critical Hotfixes.'
Report and resolve an issue
There are three ways to report an issue:
2. JADE Forum
Submit any general questions to the Jade Forum for community input
3. Access Parsys (Managed Service Customers only)
Managed Service Customers can access Parsys to search known resolutions, report, and track any issue.


Parsys
Jade Support records and monitors contacts and product faults for managed customers through the Product Anomaly Recording System tool (Parsys). Managed customers can search in Parsys for known issues, existing fixes, and frequently asked questions.
Installing the PARSYS thin client
Install the Parsys application by downloading and running the Jade Parsys Application Installer, following the Install Wizard instructions. This will install a Jade Smart Thin ClientTM that allows you to connect to Parsys and enter and track any issues directly, as well as being able to view details and enter additional information or questions.
To log on to Parsys for the first time, you will need to request user code/password details from parsyssupport@jadeworld.com. Please read the Jade Parsys Client User Guide for further instructions.
The JadeCare Start schema (CardSchema) is a must for all Jade Platform users - and it is also free! This high-level schema provides helpful features and examples to assist you in building robust and high-performance applications. It is also the key backstop for your development, providing an online or offline backup. Features include:
Global exception handling

SMTP (email) interface

Online or offline backup

FTP and HTTP file transfer

Advanced diagnostics

LDAP interface
Download the version that matches your release and safeguard your work today!
You can also request support and new features for JadeCare Start if you use Parsys - simply use Product Name: JadeCare Start. Alternatively, provide as much information as possible regarding your request to jadecarestart@jadeworld.com