This series has outlined several DevOps practices to avoid and ways to overcome them should they exist in your business. Now the question you're probably asking is: Where to begin?
How to start delivering value faster
Clearly, diagnosis is crucial in improving these practices but can be difficult to see due to how close employees are to the business and their line of work. Equally, identifying which area or initiative a business should initially focus its efforts can be equally challenging. We work with our clients to visualise this process by using the Continuous Delivery Assessment Tool.
The Continuous Delivery Assessment Tool has four layers, acknowledging the part of the business in which the specific initiative in question relates: People, Platform, Tools, Process. This diagram is useful for identifying the lowest hanging fruit (large blue dots that have the highest value of impact and the lowest level of risk), in order to start seeing returns faster too. By focusing on these large blue dots, a stronger business case can be made for initiatives that offer higher value but carry higher levels of risk.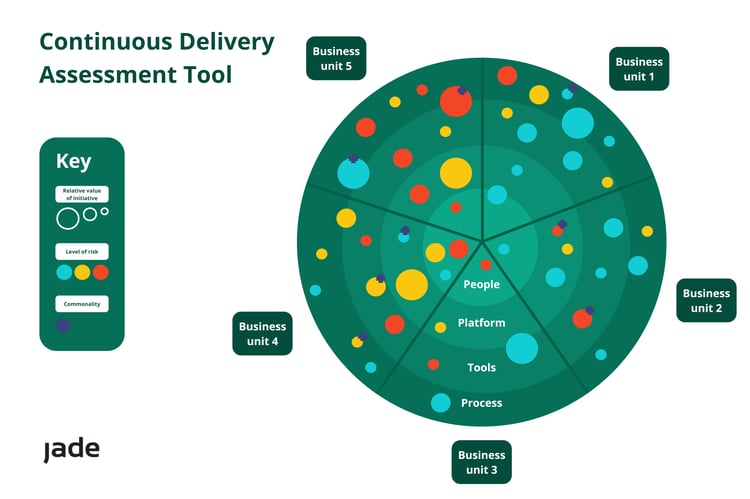 Once all the information is gathered, we create a visualisation that enables a business to see which units or initiatives are most exposed (clusters of larger red dots) and where the biggest improvements can be made with the least amount of effort (clusters of larger blue dots). If you're interested in this tool, we'd be more than happy to talk you through it in further detail.
From here, the next most valuable step in evolving an organisation's DevOps practices will depend heavily on the individual context and current stage of maturity. Typically, it's putting forward a business case that addresses barriers that revolve around the why questions: why there's a need to change and why they ought to participate.
By thinking critically about these questions and articulating appropriate answers for various stakeholders in a business, enterprise technology managers will have much more success in improving the productivity and engagement of their teams. Ultimately, this will lead to your organisation achieving a high or elite level of DevOps maturity. It won't be easy but once you've done this, you'll wonder why you didn't begin it earlier.
Is your DevOps programme reaching it's potential?
Talk to us about making data meaningful