One of the highlights of this past year came out of some robust discussions we had at a round table event that brought together IT and business leaders.
This blog is Part One of those discussions.
Application Modernisation - The Forgotten value of Existing Systems
In the age of disruptive change, many organisations are frantically chasing the next big, 'shiny thing' - opting to undertake radical technology transformations that require fundamental changes to operations and a massive rethink across all areas of business.
But what if you could extend the lifespan of your organisations' applications, while also taking advantage of technology innovations?
That's what a group of select IT and business leaders gathered to discuss in Sydney at the QT Hotel.
Amidst art deco style - and attended by the Jade executive team from both Australia and New Zealand - all thought leaders at the table agreed there are a number of pain points and challenges in the walk towards application modernisation.
In fact, the technology transformation journey - for each and every company - involves delivering disruptive change from either current systems, re-platforming or moving to new applications.
What's more, it's often not an all-or-nothing approach - 'shiny new things' versus existing tech - but rather a blended approach - a balance that requires a proper risk assessment and understanding of the IP involved.
Either way, what's possible? From optimised performance; to cost savings; to business agility; to the adoption of analytics and new features including AI and machine learning - there's a host of ways to unlock value from existing systems or when embarking on a new application modernisation discovery.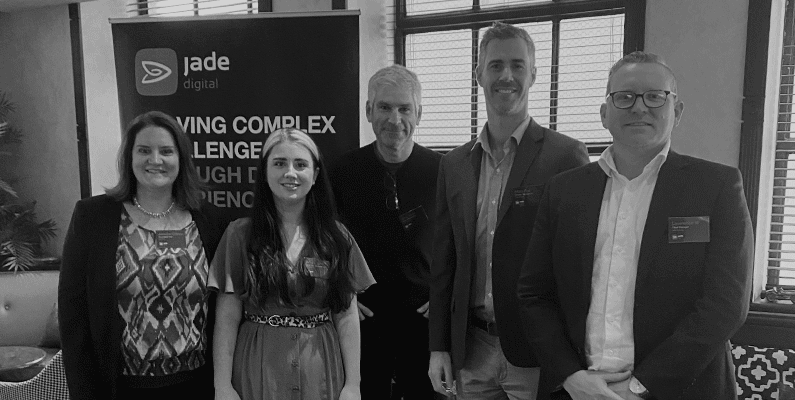 Left to Right: Jennifer O'Brien - Roundtable Host, Breda Cahill - Jade Digital Business Lead at Jade, Greg Smith - Head of Engineering at Jade, Mike Rae - Country Manager at Jade, and Lawrence Williamson - Client Manager at Jade.
'Blended family' approach
But first, let's define part of the concept. For Jade Software ANZ country manager, Mike Rae, application modernisation can be like a blended, extended family.
"It's about the old and the new, and determining how to bring that together to optimise the design outcome the organisation is working towards. Quite often older systems - when you're looking at optimising - can be incredibly complex.
"These systems have been built over a number of years and can be a challenge in terms of siloes. But once you unlock the possibilities - understand the business outcome and targets you're trying to achieve (how the old and the new play a part and come together to deliver true business value for the long-term) - companies can then deliver meaningful technology transformation projects and harness the power of IP.
"In essence, they can build on years of organisational knowledge and enhancement."
What's more, Rae said many legacy systems and applications may not actually be end-of-life and simply need a "touch of modernisation" - so education on what's possible is important.
In fact, by embarking on an application modernisation journey, Rae said companies can enhance existing applications; and integrate them with newer frameworks and infrastructure platforms, all while protecting existing investments and modernising software portfolios.
But finding the most cost-effective route with an acceptable level of risk can be challenging as companies embark on the pathway to invest in digital solutions, Rae acknowledged.
"By incorporating cloud capabilities, new integrations, revised architectures and updated experience design, businesses can keep their unique way of working with little disruption, while also developing their technology in ways that enable a dynamic business strategy."
In short, there are three main ways to deliver application modernisation projects, according to Rae. They involve: encapsulation; rehosting; or rebuilding.
Encapsulation, one of the

more common application modernisation techniques, involves packaging up a part or parts of your application into easy self-service solutions.

Rehosting will see your applications rebuilt to be cloud native with revised architecture, or 'lifted and shifted' to make the most of cloud capabilities and tools.
Rebuilding, which might be extreme for some, involves reviewing user processes, documentation and your long-term architecture goals to best navigate risk and enhance value for your application in its new cloud environment.
Shiny new tech or existing systems?
Against this backdrop, thought leaders were asked: 'Shiny new tech or existing systems?'
Certainly, the rise of new technology - and innovation - can often lead to the obliteration of older, well-entrenched systems. And this process isn't unique to the world of technology - it happens all throughout history with the replacement of outdated ideas.
For the Australian Associated Press (AAP), Australia's only independent newswire service, and its CEO, Lisa Davies - an important national figure with boardroom accountability – it comes down to exploring emerging technologies.
"I'm definitely a fan of shiny new things, but I also think simplification is important. We've inherited a complex set of systems, so in looking for the shiny new things they also need to ease the complication of our environment. With the multiple threats to our business, especially around security, it's important we look to streamline and strengthen simultaneously."
Jumping in the deep end, AAP CTO, Marc Bailey, said the organisation is embarking on an ambitious technology transformation to completely migrate the organisation, its datacentres, applications and data into cloud.
"AAP is Australia's newswire and benchmark for fast, accurate, fact-based journalism - an industry undergoing rapid disruption from artificial intelligence, media democratisation and business model changes. We must evolve, pivot and adapt technology extremely rapidly; always trying to anticipate the next wave".
Bailey reflected that shedding legacy operational burden - while minimally impacting line-of-business systems - is AAP's most pragmatic path to being able to refocus on innovation, emerging technologies and application modernisation.
"Ironically, sometimes optimising tried and true turns out to be the fastest way to get to shiny and new."
Like Bailey, Integrity Life chief architect and technical solutions, Eklavya Gupta, said the company has already adopted a host of cloud applications - its main focal point now is determining how to deliver better Devops processes, and production support ones.
"I consider cloud to still be 'new shiny tech' because we haven't yet fully reached a level where we know everything about cloud and security. With the recent incidents that have happened in the industry with breaches, we're really pragmatic about how we're going to approach our technology moving forward."
Certainly, it's all about blending modernisation with more traditional older systems, according to Breda Cahill, who leads Jade Software's digital line of business.
"I like shiny and new - that's my key space. But it's all about how we can spend the best money on shiny and new, but also keep our good housekeeping underneath with the older technologies."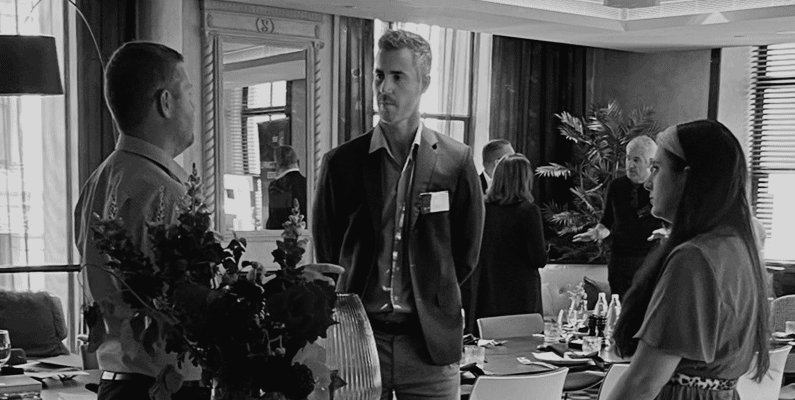 Mike Rae and Breda Cahill speaking with Mark Hunter from Google
Like Cahill, Jade Software ANZ cloud manager, Lawrence Williamson, said he sees massive opportunity in adopting a blended approach, which can save both time and money.
Analysing the technology stack of scores of companies, Williamson said systems often only require a new version upgrade - which brings better functionality and features - which means the strategy doesn't have to involve "throwing everything away and starting over."
"I'm in the middle of the two - I would say 'shiny and new,' but it's also important to find value in those hidden systems - and that's something we can help people accelerate just by opening up conversations and discussing how they can get better performance out of what they already have."
For another delegate, working at one of Australia's leading providers of training, education, community and employment programs, he said he can't split it either way - whether 'shiny new' or older tech, but can speak to the importance of finding value from older technology investments.
"I get excited about innovation and bolstering the customer experience - and you need a bit of both. Therefore, I get excited about new shiny things, but also getting value out of your current investments.
"When we try to replicate and move to the cloud - and ditch traditional systems running for many years - what we tend to do is forget the systems that have 20 years of maturity, and forget the processes and techniques, but everyone knows how they work - even if it's ugly," he said.
Tellingly, it can be likened to a scenario that can only be best described as: 'Better the devil you know.'
"With a brand new model, we know the engineering is superior. It's more secure, more connected to the Internet, but getting it to do all of those things the old systems does, is next to impossible."
Meanwhile, in the world of pharmaceuticals, "new tech, old tech, it's much the same'' for Novartis IT director, Menaka De Alwis.
"As a technologist and advisor to the business, I need to ask the 'why' and what's the problem the business is trying to solve, and in many cases, manage business expectations. Many people have high expectations and think the 'new shiny things' will solve all their issues and open up opportunities, but it's my role to see where business problems properly fits into the global strategy and our technology landscape."
Certainly, thinking practically is a lesson that resonated with all tech leaders, particularly for one roundtable delegate, a tech leader working at the Australian arm of a global commercial real estate services company. He said he's split between 'new or old' but will inevitably argue for a balance each and every time.
"I always use the analogy: 'We've got a jet fighter that we're using as a hang glider. Very capable high end products that organisations are investing in, but they're not realising the value of. As an engineer at heart, I've always enjoyed refinement, but we need to make it run more efficiently and draw the value out of things - but it's also important to keep your eye on the horizon because there's some exciting, innovative stuff coming down the pipeline."
Talk to us about making data meaningful