Business intelligence (BI) and data analytics (DA) have rightly been two of the most in demand skillsets in business circles over the last few years. With the onset of COVID-19 and the global impact it has caused since December 2019, BI and DA roles are needed now more than ever. While the need for BI and DA is becoming increasingly clear, people's understanding of the difference and purpose between the two is much murkier.
Business intelligence refers to information employees and organisations require to improve their decision-making. Data analytics is the process of transforming raw data into meaningful formats, which enables people to draw more accurate conclusions. At a very high level, business intelligence helps people make decisions based on historical data, whereas data analytics is more focused on predictions and trends.
Whether businesses are bursting at the seams with increased activity, have managed to stay operating with minimal impact, or have been hit with a significant reduction of activity and revenue because of COVID-19, business intelligence and data analytics have equal roles to play. Organisations can use this global reset as an opportunity to make sense of the extensive data they have collected over the years, aiding their ability to decide where the business goes and where it should focus.
The failed pipe dreams of business intelligence and data analytics
Business intelligence and data analytics are often viewed as being somewhat of a saviour for executive teams, as well as another opportunity for consultants to charge exorbitant fees. Business intelligence is an essential element of modern business but where it so commonly falls down is the quality of inputs, in this case the quality is data – rubbish in, rubbish out.
"Business intelligence is only as intelligent as the data going into it… and only as smart as the people using it". Christian Ofori-Boateng, Forbes Councils Member.
In late 2019, ADAPT, one of Australia's leading IT insights and research agencies released a report around the efficiency and accuracy of business analytics. ADAPT reported that the top three challenges executives faced when generating on-demand, business-critical insights were disparate data sources, manual reporting, and the lack of analytical software.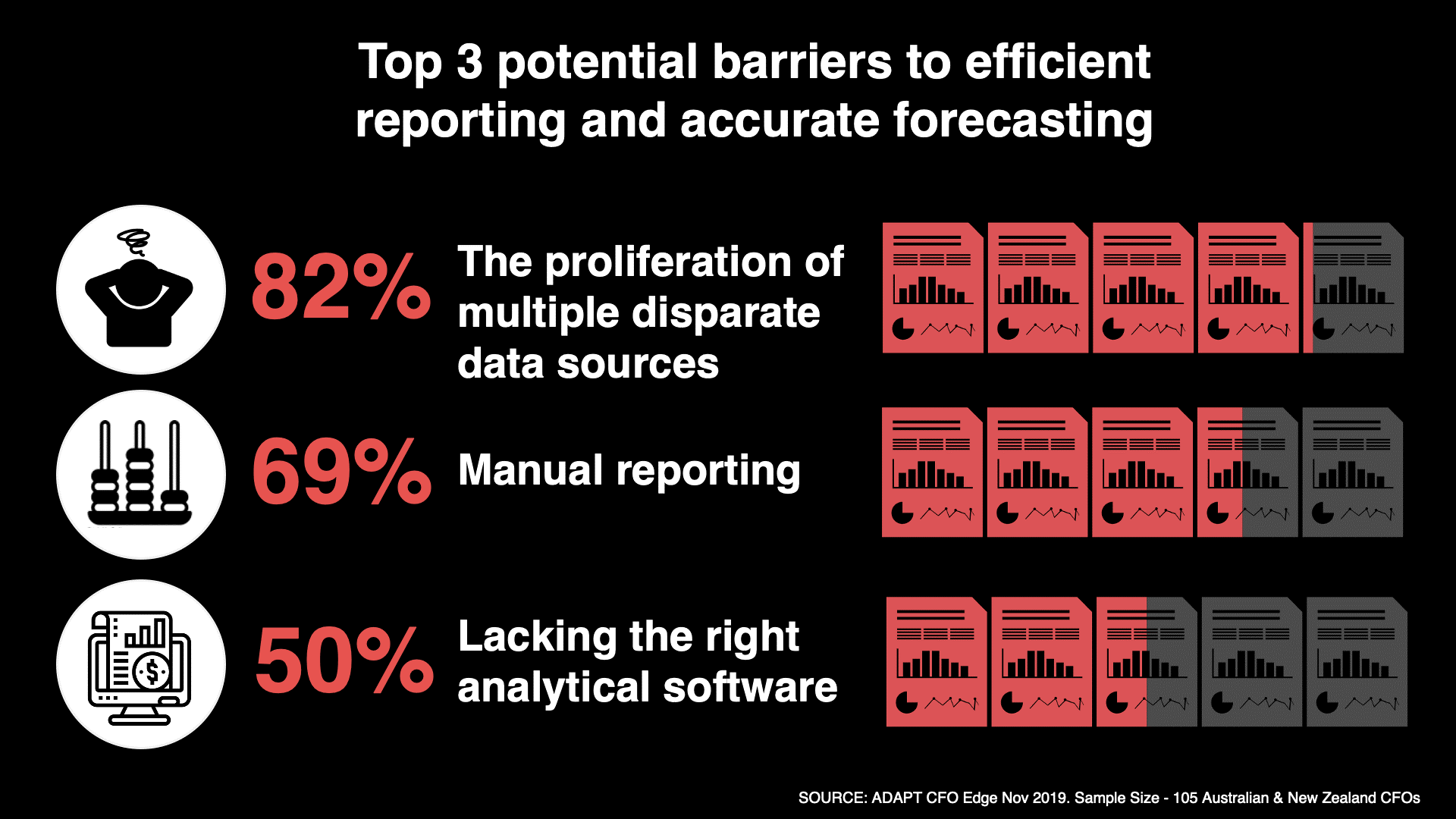 Without sufficient data, BI and DA is comparable to a solution looking for a problem. And in the digital world this can destroy businesses, careers. Rather than seeing a net benefit, departments implementing data-poor, solution-oriented projects or capabilities can result in a lower ROI. And the scary thing about this is that, if the solution has an inferior data set or is not bespoke in its ability to solve the problem, the true impact might not be realised for months or years to come.
In our experience, organisations have had much greater success when starting with the problem they're trying to solve. For instance, you may want to provide a more accurate estimated time of delivery (ETD) of your products or services. There's nothing wrong with that, but push past the ETD to understand why that matters, what's in it for your customer, etc. When you start with this approach, it's far more likely you will gain the insights that make a difference, plus be able to define richer, more meaningful solutions than when you first began. You may also discover additional opportunities that could provide even greater customer experiences and competitive advantages.
While there is a rising appreciation for business intelligence, this growing demand is putting capacity strains on those responsible for carrying out this function. So as more and more business units want access to this capability, they are having to wait longer and longer for their requests.
So how can your organisation see more success from its business intelligence and data analytics programmes? Read more in the second and third parts of this series.
Talk to us about making data meaningful